Welcome to the Homepage of the Dublin Sculling Ladder.
Ciaran Lewis
The Dublin Sculling Ladder was founded in 1965 by Michael Johnston.
It always runs on the second Saturday of October.  The purpose of Dublin Sculling Ladder is to promote Sculling amongst the Dublin Community of rowers.  Whether you are  a beginner adult or a national squad junior, this is a free opportunity to race the clock and each-other to see where you currently rank.
Meet the Team of Dublin Sculling Ladder Volunteers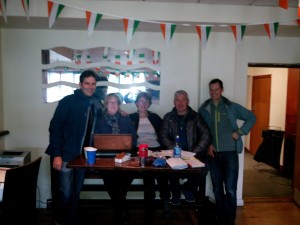 Photo L to R: Ciaran Lewis (secretary), Liz Byrne, Susan Clarke, Jim Cassidy, Brendan Smyth